How to Set up Your WordPress Blog On Bluehost
I'm going to show you how to set up your WordPress blog on Bluehost. And it will only take you 20 minutes tops…
Blogging has given me the freedom to live and work where I want and make thousands of dollars working from the comfort of my own home.
I started off as a freelance SEO and content writer in 2009, providing content for many different types of online businesses. 10 years later, I still believe that using fiverr money websites for freelancing writing is by far the quickest way to start earning an income online.
But what if you flunked out of high school English class? Well, you can still make a decent living writing online despite your high school English teachers' opinions.
You just need to know where to find websites and blogs that are looking for content.
One thing that really ramped up the number of clients that hired me was starting my own blog. In fact, I started a number of different blogs and picked up clients along the way because they found my content interesting and engaging.
So what is your first step – How to set up your WordPress blog on Bluehost?
You need:
1. A website name (preferably .com)
2. A hosting account
Having used many different hosting companies over the years, I have found some are very supportive, others not so much.
Anyway, rather than you wasting your time trying to decide which hosting company is best, I've negotiated a great deal with Bluehost, so that you can start your blog at a very competitive price.
If you get in quickly, they'll throw in a free blog domain. So take action now as I'm not sure how long they'll be running this special for you.
Disclosure:
And yes, before you ask, I am an affiliate for Bluehost. I will receive a small commission if you sign up through my referral link. There's no additional cost to you, and you will get a great price and a free domain name through my link.
I've put together a Free Report that you can access here, which shows you exactly how to set up a blog properly as well as a list of more than 20 different services that you can provide to businesses online. It's a complete business blueprint that will give you some great plans to make even more money online.
You can find the basic details in the chapter titled: How to Create a Super Cheap Website that Rocks.
Bluehost is a great web host and I and many of my students are impressed by their service and support.
But if you want to keep looking then consider finding top cheap web hosting first.
Why Not Use A Free Blog?
You're probably thinking that you can just use a free blog and avoid having to pay the few dollars a month that paid hosting costs you.
Well, you'd be right.
You can use free hosting but the benefits of your own domain and hosting are worth the investment.
Also, using the best cheap web hosting service may actually save you money in the long run.
As you may end up losing your content on a free site or have to spend more money moving it across to a paid service later on and potentially lose any backlinks that you've built up.
Investing in your own domain name and hosting give you complete control over your blog. No one can take it away from you or make changes later on.
I've heard a few stories of bloggers putting in lots of time and effort only to have their blog disappear or having advertising appear on their websites that were less than pleasant for their audience.
Also, your potential clients will consider you that little bit more professional if they see that you have your own hosted domain with pages filled with your content.
First impressions count and you don't want to damage your chances of success before you even get started.
Freelance Assignments are lucrative!
One freelance assignment can pay for a years' hosting pretty quickly, so don't be afraid that you'll waste your money.
Bluehost is one of the best performing web hosting companies in 2020 and you can start your blog with them for as low as $2.65 a month (this great price is through my link only)! You also get your domain for free if you purchase a 12 month or longer hosting plan (a $15 value) using my link. I highly recommend signing up for the 12-month hosting plan through Bluehost. It's affordable and you can save a lot of money by signing up for at least 12 months. If you want a better deal, the best value would be purchasing a 36-month plan, as your monthly rate is much lower over the long run.
8 Reasons Why I recommend How to set up your WordPress blog on Bluehost
I truly believe that to set up your WordPress blog on Bluehost is currently the best option for you. I've compiled a list of reasons why I think you should consider Bluehost as your preferred host, these include the following:
1. Ease of use
Anyone can set up a blog using Bluehost as they make it very easy to put
2. Affordable
Bluehost is very affordable and offers cost-effective web hosting. You will have a blog of your very own and the only real expense you need to pay is the cheap blog hosting starting at just $2.75 per month.
3. Professional
You will appear far more professional to your readers and potential customers if you have your own domain and hosting. Free hosting such as Blogger is a big turnoff for an editor or affiliate marketing manager.
4. Free domain
This saves you money.
5. One-step WordPress Installation
Saves you the time and hassle of setting up your blog by hand, and it's free.
6. Awesome Support
Bluehost web hosting offers great technical support. This really separates out the hosting companies that care about your success.
7. Guarantee
You get a 1-month guarantee which gives you time to decide if this is for you or not. Feel free to contact me directly here if you need help deciding which is the best package for you.
8. Monetization
If you want to run ads and other forms of earning money through your blog, then self-hosting through Bluehost is a must-have.
So…it's decision time
OK, so you've decided you want to check out what Bluehost has to offer directly on their site? Follow the link below to get started.
Click here to start the process.
How to set up your WordPress blog on Bluehost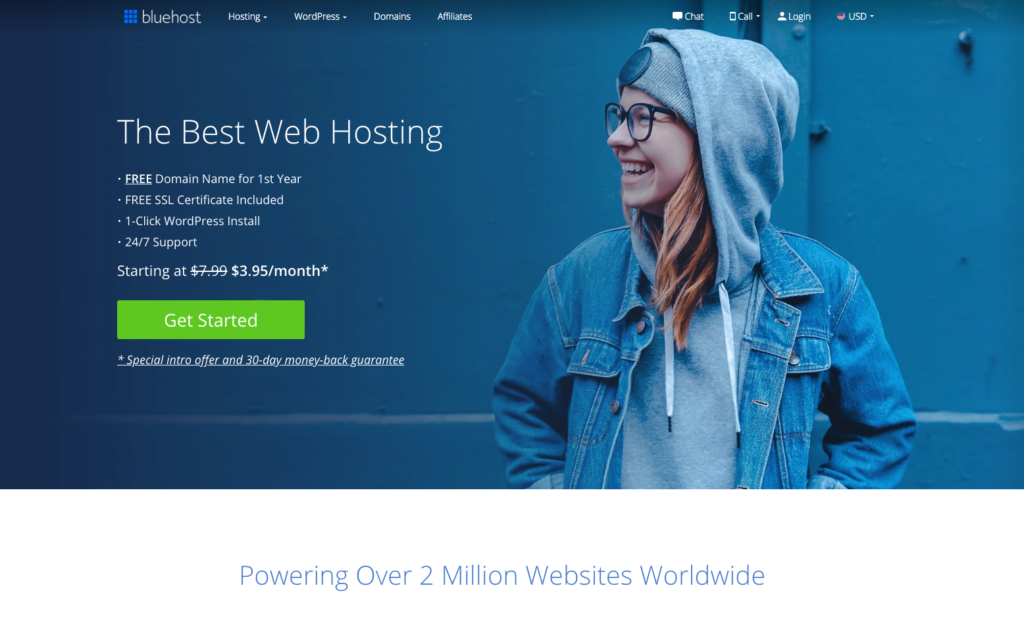 1. Register your domain name
You can click here to purchase a domain name and create a blog, then follow the easy steps below.
You'll need to think of a name for your blog first. This can either be a generic name, your own name, or a niche-specific name.
Try not to be too clever with your name as it must be memorable, as few characters as possible, and somewhat relevant to what you are going to use the blog for.
The process is made very simple by using Bluehost and if you do this, you can get a FREE domain for the first year just so long as you buy 12 months worth of Bluehost web hosting.
You also get a cheaper monthly price when you buy at least 12 months of hosting, so the free domain just makes it much better. If you want an even better deal, I recommend purchasing a 36-month plan. Your monthly rate is much lower over 3 years and you only have to worry about renewing after 36 months. If you decide to get the free domain, just continue to the next step as you can buy your hosting and get the free domain in one go.
 2. Buy hosting for your blog
The WordPress blog set up on Bluehost is very simple. Firstly, we'll talk about the costs of blogging:
Most Cost Effective Plan
To receive the most cost-effective price to start a blog, choose the "Basic" plan, as it is really all you need. For only $2.75 per month through my link (due upfront in full) you sign up for 36 months and receive a great price.
The 24-month plan will set you back $3.95 per month. If you sign up for a 12-month plan, the price is $4.95 per month. $4.95 is still an extremely affordable plan to choose (especially since you get a free domain at this price!).
Annual Plan
If you are a little wary of committing to 3 years and are unsure of your blogging future then sign up for the 12-month plan. This is still a great price and very affordable for a year of blogging. Purchasing a 12-month plan is only $59 a year, which is still very affordable. Plus, you still get to receive the free domain name when you sign up for 12 months or more which saves you money. 
However, purchasing a 36-month plan makes a lot of sense as your monthly rate is much lower over the long run.
The Basic Plan
I recommend the Basic plan, for now, so leave the Plus and Business Pro plans as they are more expensive. You can always change to a different plan if you want to (and just pay the difference), so there is no need to sign up for extra that you do not need right now.
You may want to consider Domain Privacy Protection, which is only $0.99 per month. This protects your contact information from being available to everyone.
You do not need the other items that Bluehost sells for now, so I would uncheck any of the extras that are listed.
You can consider the Secure (https) certification as this gives visitors some level of comfort that their data is secure when they visit your website. However, you get this for free (3 months at a time) and I'll show you how to do that fairly easily if you want.
Remember, if you sign up using my link on this page, you will receive your domain for free if you purchase a 12 month or longer blog hosting plan.
Invest in a 12-month hosting plan
It is very important that you consider investing in at least a 12-month hosting plan. Month-to-month can be less effective, and I highly recommend signing up for a minimum of 12 months for the following reasons.
By signing a contract for a minimum of 12 months, you receive your free domain name, with lower pricing, and you won't have to deal with the problem of having an expired website after each month.
If your hosting is not renewed for any reason such an expired card, then your website is unavailable and you risk losing your access to visitors and traffic. This problem occurs more often when you pay on a month-to-month basis.
"month-by-month is expensive"
It's much more expensive to pay month-by-month rather than in one lump sum. The longer you sign up for, the less you pay.
For $59 per year on average, an annual blog hosting is affordable but the $99 for a 3-year contract is an awesome deal. The 36-month contract is the best value and in the long run, it will save you money.
Setting up WordPress Blog on Bluehost
Now that you are ready to start setting up your WordPress blog on Bluehost, follow the easy steps below to invest in hosting for your blog.
Head over to Bluehost and click the green "Get Started Now" button.
Select the package in which you are interested.
Sign up for a new domain name or enter the domain name you registered earlier.
Enter your payment information and personal details.
You will then be asked to enter a password. It's important that you keep this secure as it's important information.
If you experience any problems or are uncertain of anything, then please send me an email at john@johnsonlineguide.com or use the contact form here. We have an extremely competent and experienced technical guy who looks after our websites who can solve any of your problems quickly and easily if I can't assist! And best of all it won't cost you anything to tap into our more than 40 years combined expertise.
So follow the process below where I'll show you how to choose your hosting plan.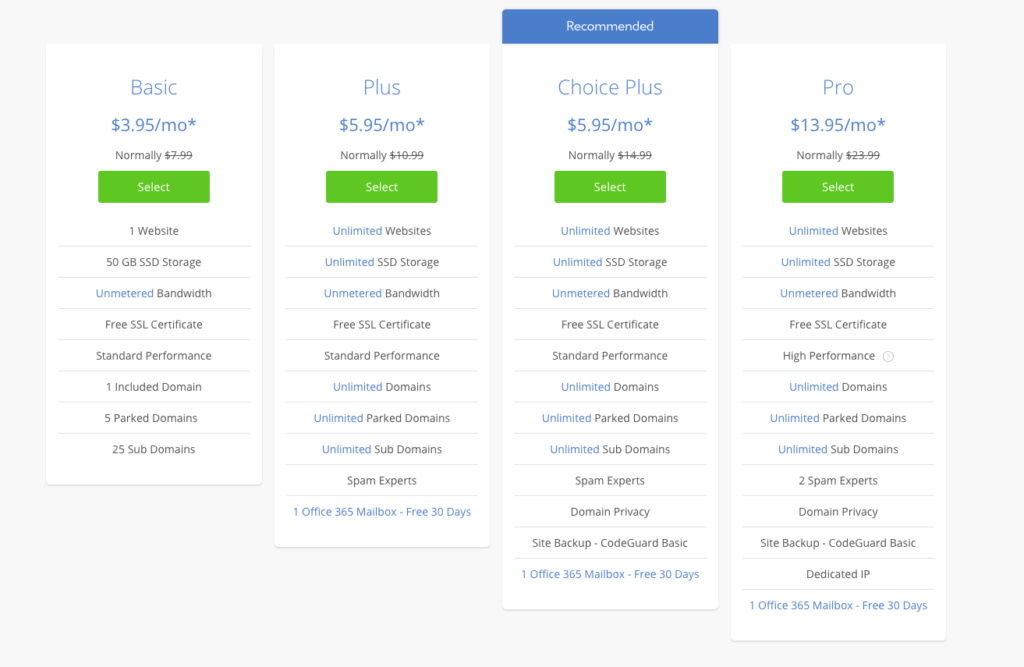 You probably will only require the "Basic" package when starting out and have minimal cash to invest in your web property.
Next up you will insert your domain name into the required field and you're good to go.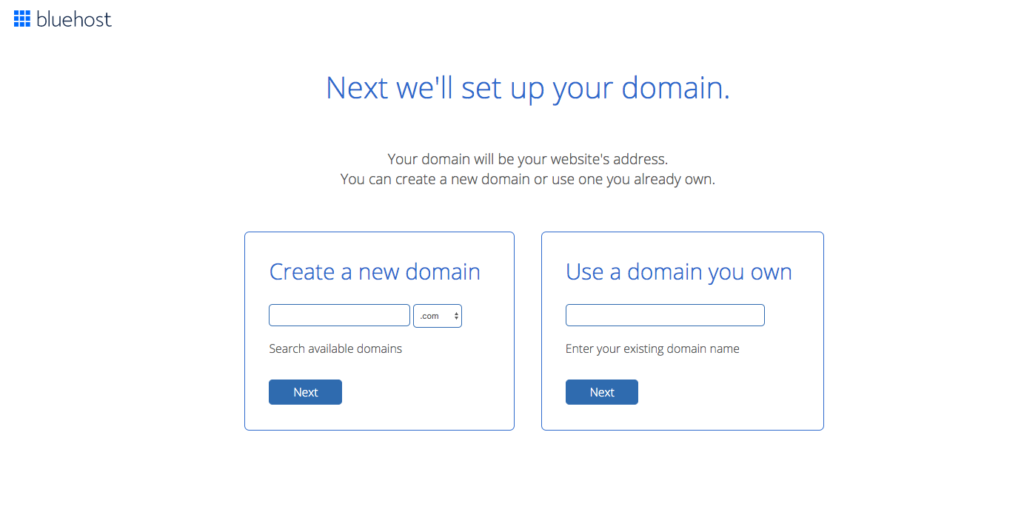 You then fill in your personal details and email address. I would recommend that this email address is the one you use for all your business communication.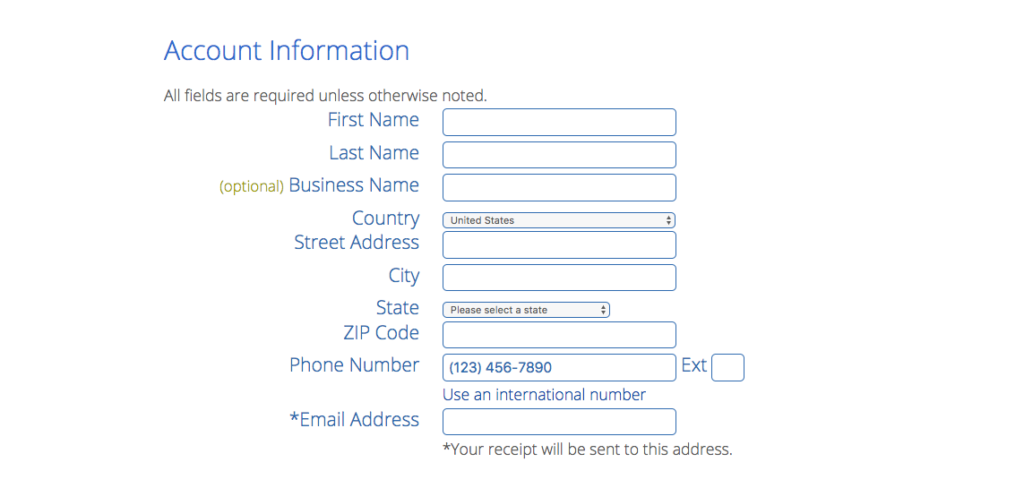 You will then be required to enter your payment details. The CVV number appears on the back of your card.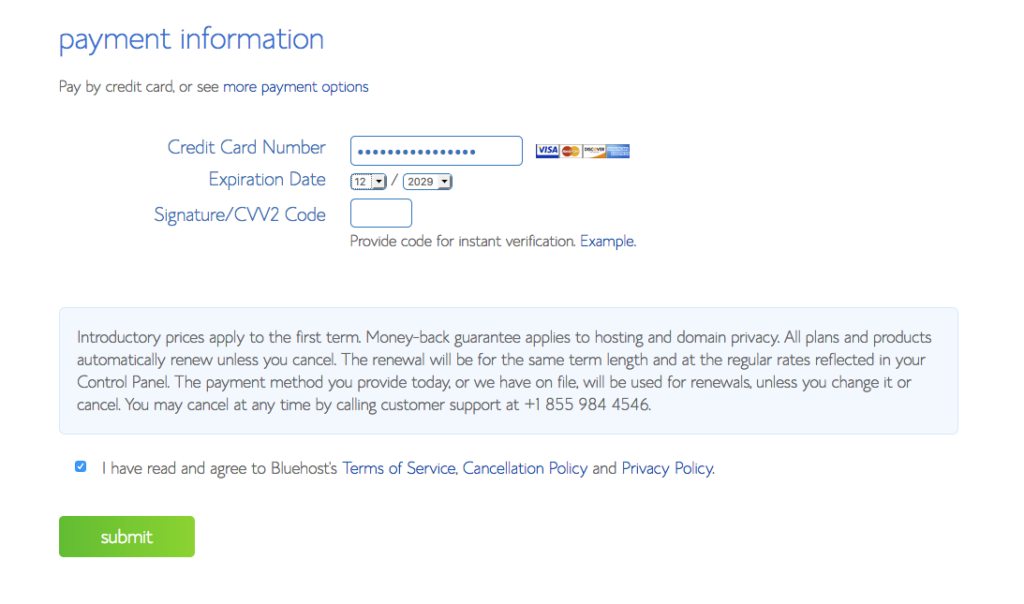 Pick your desired package. I highly recommend the 36-month package as you get the most cost-effective rate.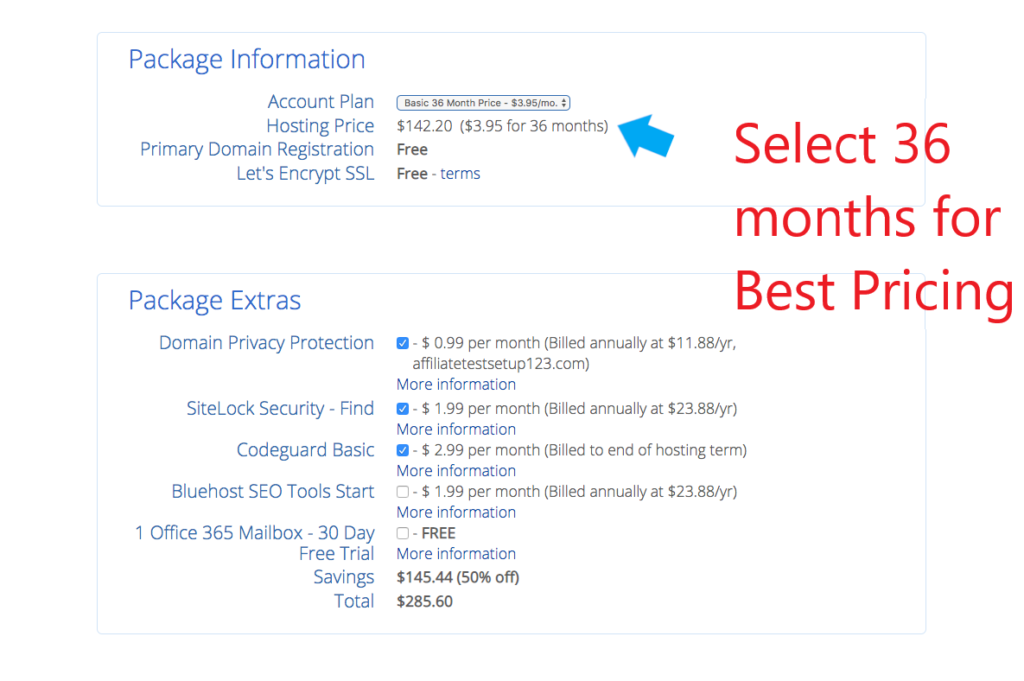 You'll be taken to this screen where you set your username and password.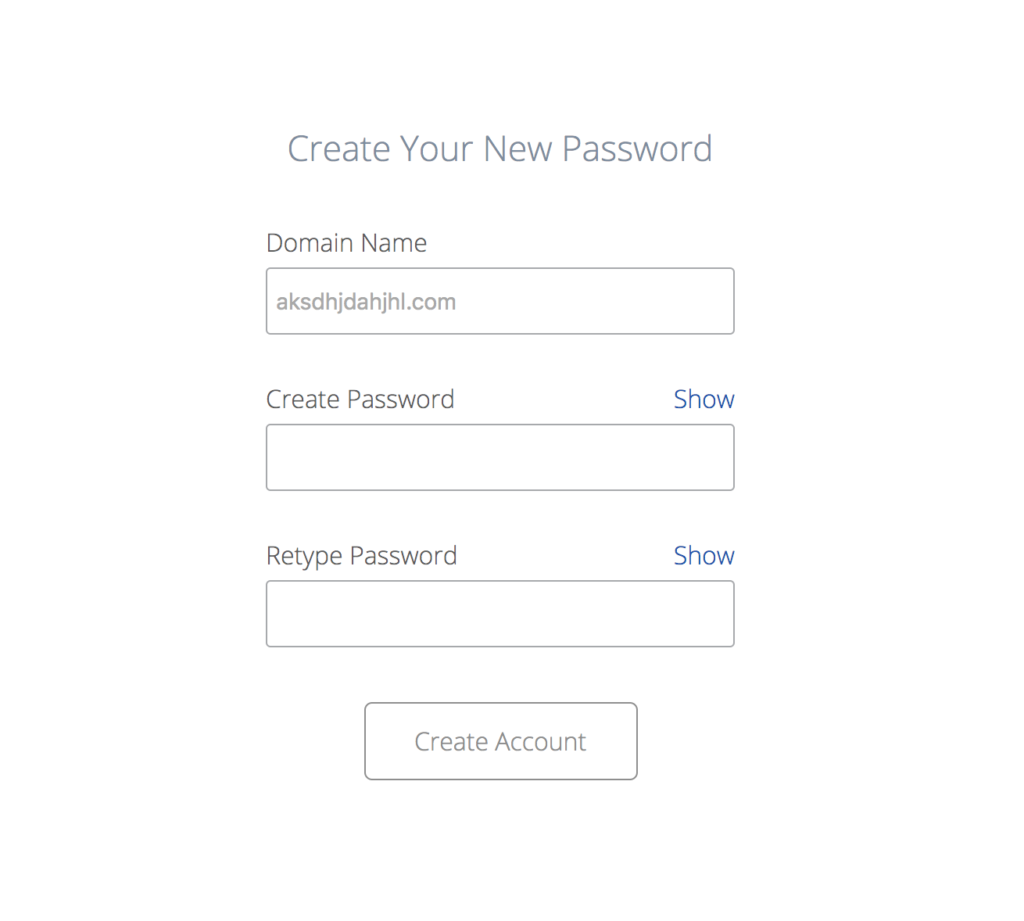 If it all goes according to plan you'll reach this screen and you're finished setting up your hosting and domain name.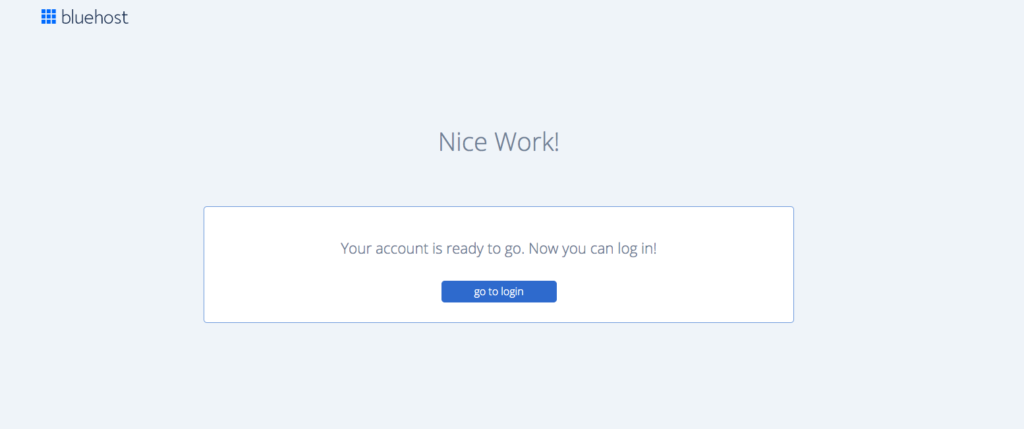 Click the login button and enter your login name and password at the login screen and you're ready to move onto setting up your WordPress blog.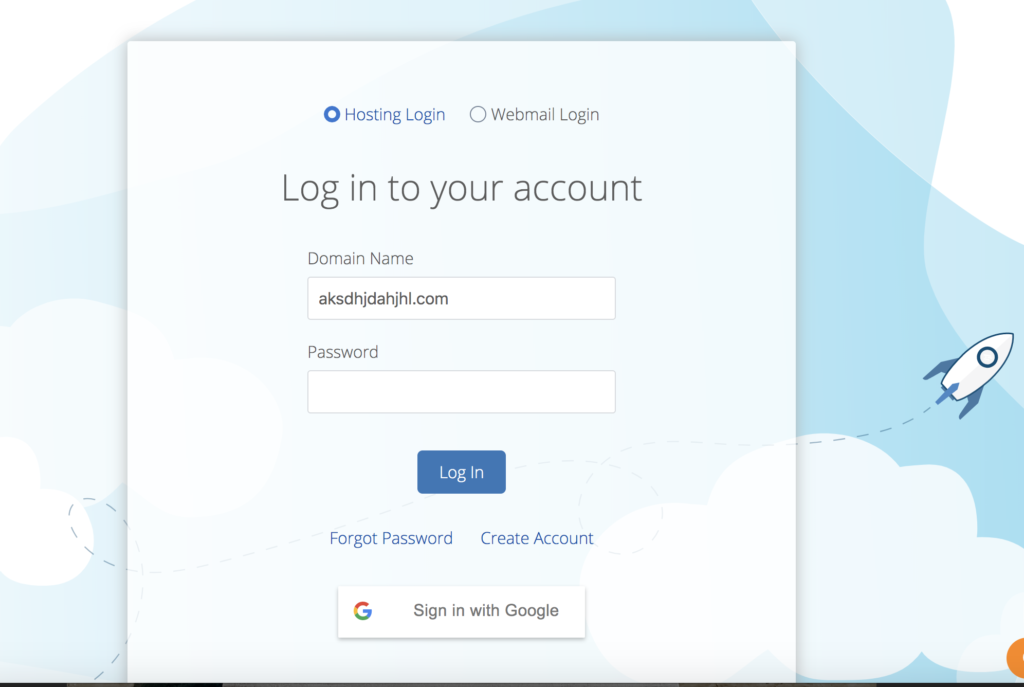 3. How to Connect your domain and your hosting.
Please note: You can skip this section (Section 3) if you bought your domain directly through Bluehost.
If you bought your domain through another Domain registrar such as Domain.com, then you will need to connect your domain to your hosting account. Domain.com has a full support page for setting nameservers for your domain names.
How to modify DNS Nameservers when using Domain.com for your domain and Bluehost for your hosting:
Log into the Domain.com Domain Dashboard.
Switch to  List View then click the cog.
Click on DNS & Nameservers in the left-hand menu.
Edit your Nameservers by clicking on the three-dotted option
Fill in with your NameServer records. Your entries should look like this: ns1.bluehost.com; ns2.bluehost.com.
Updating your NameServer records can cause downtime for your website and email service. This is due to the propagation timeframe of 24-48hours. Just another reason to invest in Bluehost annual hosting as the delay is minimal.
Finally, you will need to add your domain as an addon domain to your Bluehost web hosting. This can be done by clicking on "Domains" when logged into your Bluehost web hosting account. Then clicking on "assign."
Follow the steps and it is very easily done!
 You're now ready for the final step, which is installing WordPress on your Bluehost account.
 4. Install Your WordPress Blog on Bluehost.
This part is pretty easy. Bluehost makes it very a very simple process to create a WordPress blog and it is FREE.
Once you've created your password, Bluehost guides you through the process needed to start your blog.
Step 1
Enter your blog name be sure to select the "do you want a blog" button.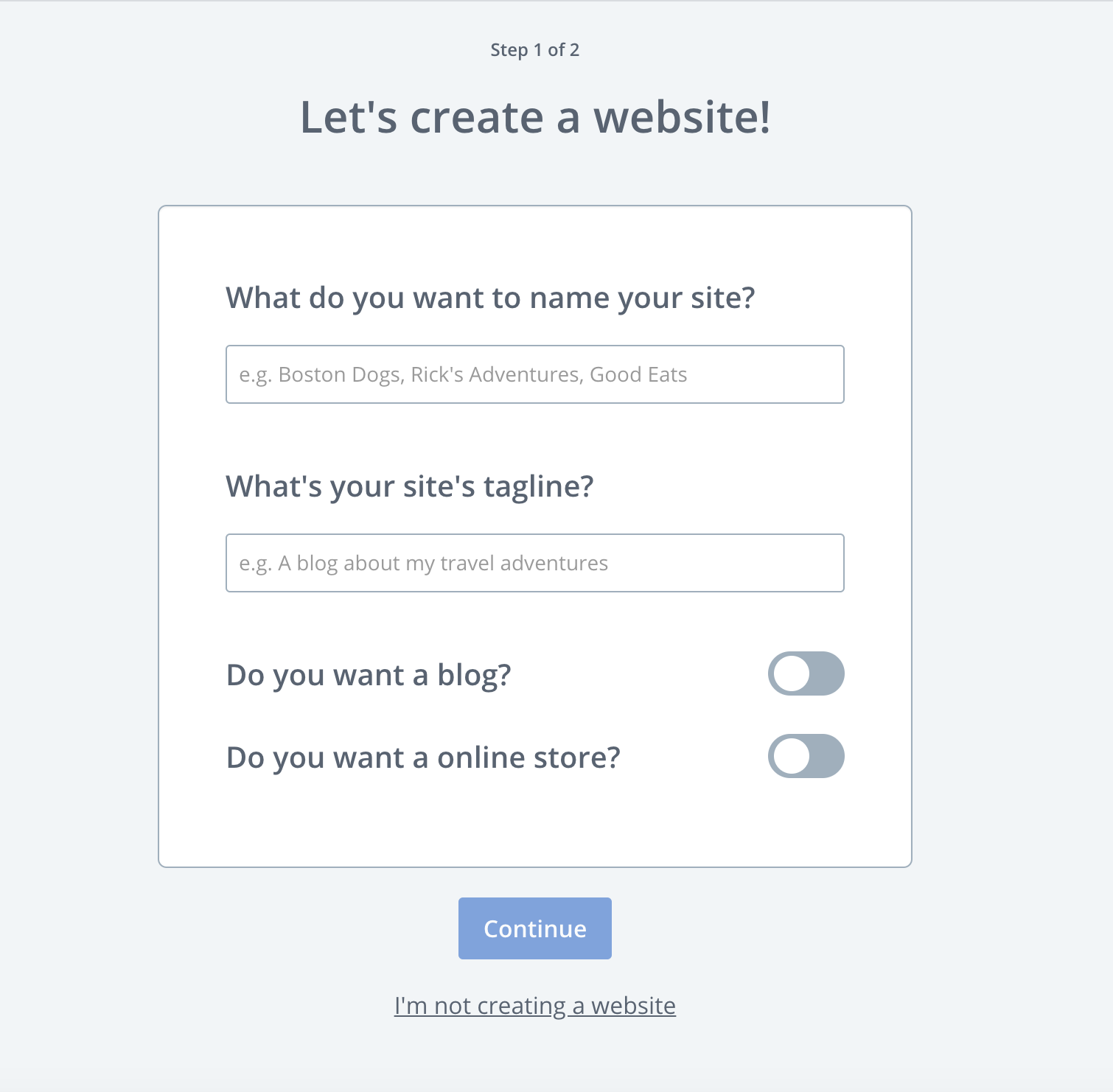 Step 2
Select what type of blog you are creating. You can choose a "Business" or "Personal" setup. Either option is fine or you can select the "Other" option. Also, pick your level of skill in building blogs from "a little" to "Very".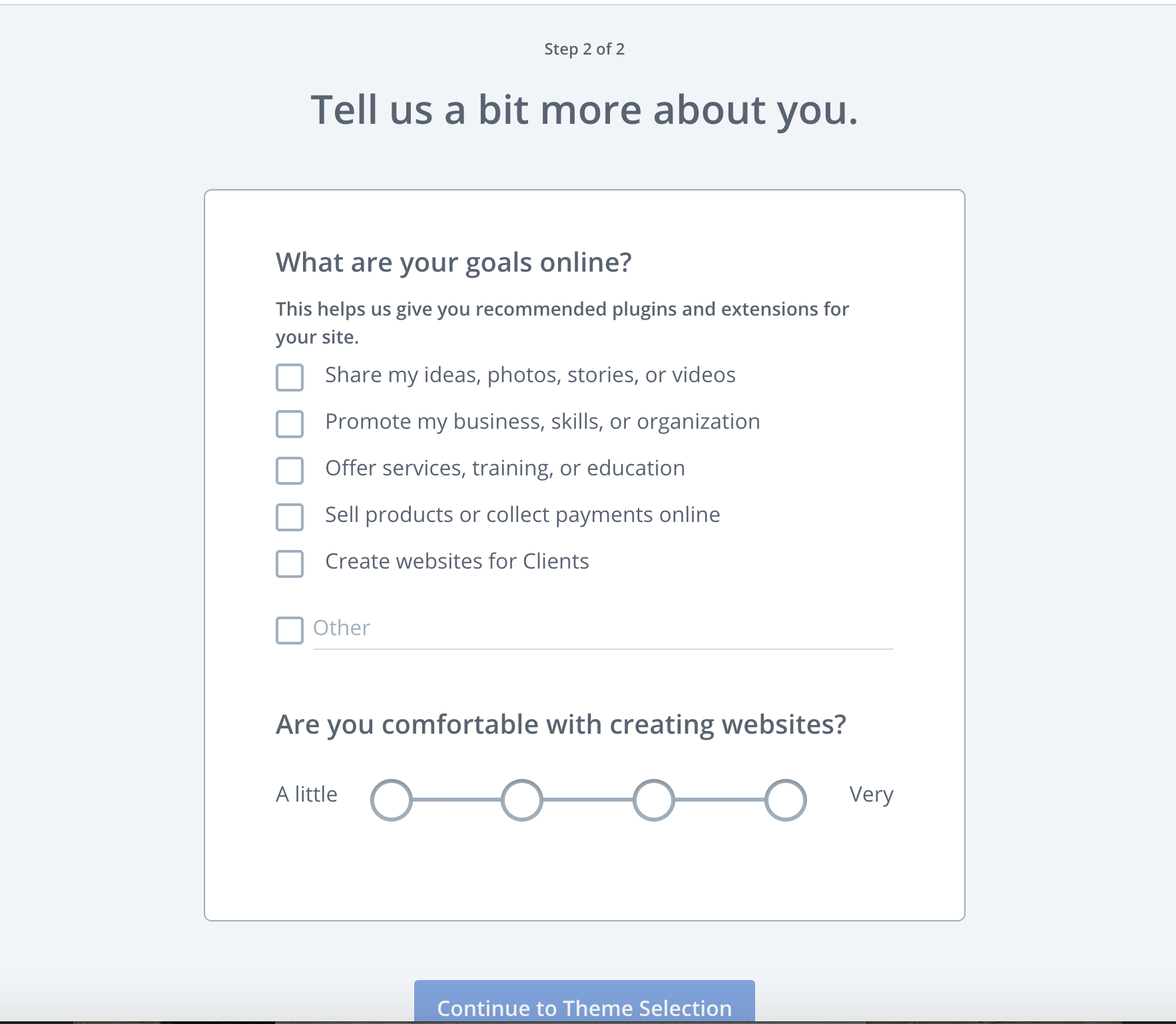 Step 3
Bluehost will ask you which theme you would like. At this stage pick a random one as you will have plenty of time later to decide which theme you will ultimately use in your blog.
Changing it later a simple process so just scroll to the bottom and skip this step. Remember, there are many free themes to choose from and once your blog has gained followers and traffic, you may consider a professional theme or one that is tailored to your precise needs.
Click on "View my website".
And there you are!
Success!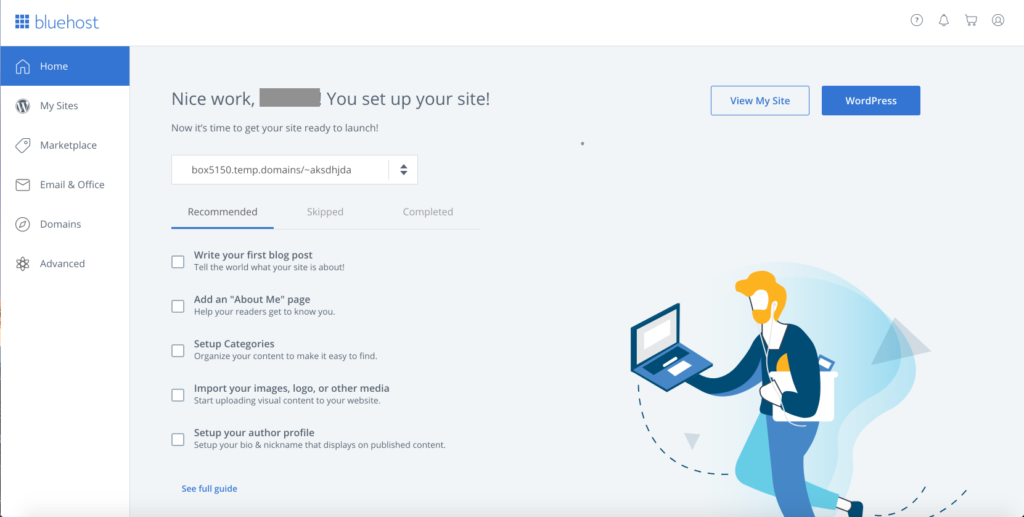 You are now the proud owner of your very own WordPress blog. But the work is just beginning. You will have to create the look and feel of the blog as well as produce some high-quality content.
If you sign on to set up your WordPress blog on Bluehost, but you are confused for any reason (such as how to set it up, selecting a plan, pricing, etc.), you can always send me an email and I can help you out. That's what I'm here for so don't be afraid to send me an email at john@johnsonlineguide.com
Navigate to the Dashboard and have a look at the "Appearance" tab. You will find a few themes already loaded there. There is also a button to add a new theme and you can select from a whole host of free themes that will improve the look and feel of your blog.
You can add and create new posts by clicking on "Posts" on the left-hand side when you are logged in.
You can add "Pages" on the left-hand side when you are logged in.
If you want to add an image, click on "Media" on the left-hand side.
You can go to "Appearance," then "Widgets" in order to add items to your sidebar, footer, and so on.
If you are looking for a way to send newsletters or emails to your readers, I highly recommend Mailchimp. They have a free trial version that allows you to manage 2000 email signups before you need to pay anything. 
Another excellent service is provided by Aweber.
If you are looking into the actual design of your blog, Thrive Themes is always very popular. Thrive is used on many of my blogs, and I highly recommend it. Or, there are free themes through WordPress you can use too. If you go to "Appearance" on the left-hand side when you are logged into your WordPress website and clicking on "Themes," then activating whichever one you are interested in testing out.
Likewise, another option would be to buy a premade blog design. This provides great premade designs and is probably the easiest and quickest design option. Check out Fiverr