Updated on 05 March 2023
Best Web Hosting For Small Business in 2023
Where do you find the Best Web Hosting For Small Business in 2023?
A great idea for a blog or website is not enough. It needs a memorable and compelling Domain Name.
Next, you must find the best domain registrar to maximize your chances of success. So how do you find the best web hosting for small business in 2023 or even the best cheap web hosting services online?
Let's look at the name registrars first and find out what they do and why you need them.
I've been buying and selling domain names and websites since 2009.
As an affiliate marketer and business owner, I've been involved in 100's of transactions involving many of the most reputable registrars and web-hosts. This gives me a pretty good idea of what to look for in a domain name registrar and where to find the least expensive web hosting.
Why do I need a Domain Registrar?
Let's take a look at what a domain name registrar really is, and how you go about choosing the best one for your business as well as the top cheap web hosting.
I will be focusing on 3 companies, as I have found them to be very customer-friendly, professional, and offer excellent service and support.
1. Dynadot –  Best Deal, Great for Intermediate as well as experienced users who are also looking for a way to re-sell domains and websites.
2. Bluehost – Good for beginners. There is also a Free Domain with hosting package option.
3. Domain.com – Very quick checkout with multi-year purchase option and minimal annoying up-sells. Pricing is excellent.
Affiliate Disclosure: And yes, before you ask, I am an affiliate. I will receive a small commission if you sign up through my referral links. There's no additional cost to you, and you will get a great price, and in some cases a free domain name, through my link.
What is a Domain Name Registrar?
A registrar is a service that allows you to register and purchase a domain. All domain registrars are accredited by the Internet Corporation for Assigned Names and Numbers (ICANN). ICANN administers the domain system and is a non-profit organization.
Registering a domain name makes it easier to navigate the web as it would be too hard to remember the IP addresses of all domains. The best web hosting for small business in 2023 requires a simple process.
And the process of registering a domain name is really quite easy. Everyone is familiar with the .COM top-level-domain. There are a number of other types of domains such as .info or ,org.  My recommendation for affiliate websites and blogs is to go with a .COM domain as it is the easiest to remember and is good for SEO as well.
Now we'll consider the most important things to look for when selecting your registrar.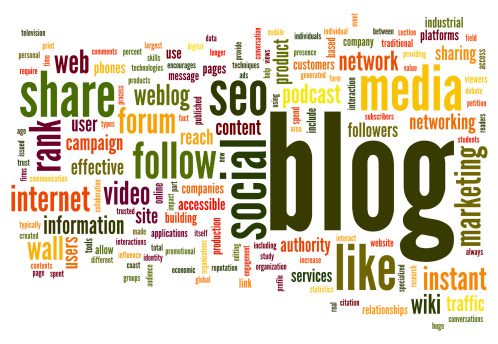 You should consider the following factors when selecting who you buy your domain from.
Search: Quick and Easy search function to look for domain names.
Checkout: You want a simple process to check out without any hassles.
Dashboard: A straight forward dashboard that is simple to navigate.
DNS Settings: You definitely want an easy way to sort out your DNS settings.
Configuration: You're again looking for simplicity here.
Customer Service: This is vital and you should do a few Google searches to see if anyone has experienced poor service from your selected registrar. You're also looking for telephone and live support functions together with a comprehensive knowledge center.
Buying Process: You don't want to jump through a whole lot of hoops to pay for your domain. There are additional services and features that all registrars offer. You just don't want to navigate through dozens of options before you are able to make payment.
Reputation: If the registrar has a generally good reputation and has been around for a good couple of years then you can be certain that you're in good hands.
Lets Compare Registrars & the Best Web Hosting For Small Business in 2023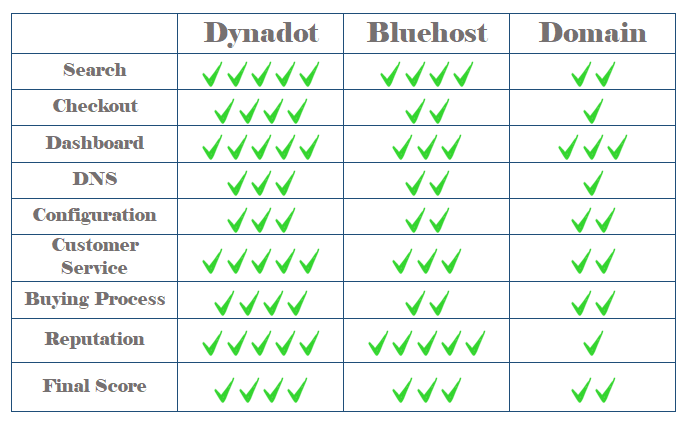 DYNADOT (Best Web Host For Small Business in 2023)
I remain very impressed by Dynadot and their services. They pretty much tick all the boxes and I still recommend that you try out their service.
They again scored the highest rating, so read on to discover why…
Search:
This couldn't have been quicker or more simple. The search bar appears right at the top of the page and you can quickly and easily check if the domain you want is available.
The search results list either your desired domain or an alternative. It's all well laid out and easily readable.
Checkout:
The checkout process is neat and you aren't faced with a huge number of add-ons and additional charges. The basic price is listed and when clicking on the purchase button you are taken to the shopping cart that is also quick and easy to use.
Dashboard:
The simple dashboard carries on the minimalist theme and is very user-friendly.
DNS Settings:
The DNS settings are easy to find and change. The process is clear and you aren't left trying to figure out where to go.
Configuration:
Once again, the configuration is neatly presented with an intuitive design that makes you feel right at home.
Customer Service:
This is where Dynadot really shows their winning ways. Support is via a dedicated menu item at the top of the page where you can access the online chat feature, help files, forums, blog, and support tickets.  
Buying Process:
The buying process is quick and easy and you are guided through the process without having to tick and untick boxes for services that you don't want. The process is a refreshing change from the multiple options I have had to go through with other registrars.
Reputation:
The company has been around for a number of years and their reputation is excellent. Since 2002 they have been making the registration and setup of websites a pleasure for their customers.
Dynadot provides a full range of services from security options, privacy, and transfer services to hosting, website templates, VPS hosting, SSL certificates, and access to expired auctions, a marketplace as well as a backorder facility.
Check out what they have to offer you here.
Bluehost (2nd Best Web Hosting For Small Business in 2021)
Bluehost is a well-known web host, in fact, better known than as a domain name registrar.
They still have an excellent reputation in the marketplace. So, if you're a beginner and need a bit of hand-holding then you should check them out.
Bluehost is one of the better-performing web hosting companies in 2023. You can also still get a domain free if you purchase a 12 month or longer hosting plan (a $15 value).
They scored the 2nd highest rating, so read on to discover why…
Dashboard:
I find the dashboard to my liking and it is pretty standard as far as dashboards go.
DNS Settings:
The DNS setting is easy to find and change. The process is clear and you aren't left trying to figure out where to go.
Configuration:
The process is fairly straightforward and is user-friendly.
Customer Service:
An extensive customer support knowledge base is available. The usual support ticket system, as well as a chat feature, keep you well informed. Reviews are positive regarding support with one or two exceptions customers are happy with Bluehost support.
Buying Process:
Bluehost focuses on hosting rather than domain names specifically, so the process is structured to guide you through the hosting workflow. This can be irritating, as there are a number of additional services that you are encouraged to purchase at each step in the process.
Reputation:
Bluehost has been around since 2003 and has a good reputation in the marketplace.
You can see what they have to offer here.
Domain.com (3rd Best Web Hosting For Small Business in 2021)
Domain.com is a well-known domain registrar that offers a full range of TLDs (top-level domains). Their inexpensive hosting options along with useful tools for small businesses and blogs such as SSL certificates, web design, online marketing services, and VPS hosting is great if you are looking for a one-stop-shop.
As a full-service provider, they cover a lot of what you might need as a small business needing web hosting.
Search:
Straight forward process which is easy to access from the home page.
Checkout:
Pretty good, simple process.
Dashboard:
Simple to navigate.
DNS Settings:
Standard DNS settings, so you won't have too much trouble here.
Configuration:
Can be a bit tricky.
Customer Service:
The "help" and "support" menu items are not that easy to find. The knowledge base takes some time to find. That being said, they have a pretty good reputation overall.
Buying Process:
The purchase process was quick and fairly easy. I didn't have to wade through a whole bunch of irritating add-ons.
Reputation:
Quite good and as they provide all the obvious choice of TLDs as well as the more obscure ones. The VPS hosting and cheaper shared hosting plans are pretty good too.
Check out what they have to offer here.
"Setting up a WordPress Blog can be challenging if you are new to building websites. So, we've written a detailed article on How to Set Up Your WordPress Blog On Bluehost ," with the best web hosting for small business in 2021.