Why Do You Need a Foot Pedal For Transcription – A Complete Guide
You may be wondering why do you need a foot pedal for transcription, well the answer is not difficult to understand.
You need a foot pedal for transcription as it helps to improve transcription speed. This leaves your hands free for typing. It lets you control the audio with your foot rather than lifting your hands off the keyboard, but needs special software to work efficiently.
With the increase in records requirements, the need for increased and accurate transcription speed is vital.
Transcription foot pedals for laptops or desktop machines are in great demand.
The reason? …new job opportunities are opening up.
With the move to online business well and truly entrenched, companies are now happy for staff to work from home.
And this has given rise to an increased demand for work-from-home jobs. Even freelancing positions are increasing as employers realize the benefits work from home jobs offer.
Transcription jobs are gaining popularity as they are perfectly suited for freelancers. Work-at-moms and dads, and anyone looking for part-time work are noticing this trend too.
To be more productive, transcriptionists use foot pedals designed to stop and start recordings more efficiently. Using a transcription foot pedal is much quicker than using keystrokes or your mouse.
What Does a Transcriptionist Do and Why Do They Need a Pedal?
A transcriptionist is someone who specializes in transcribing recorded voice notes.
Their work entails listening to voice recordings or videos while converting them into a written format.
The job can include transcribing recordings of legal, medical, and various other professions and topics.
But Do You Need  Transcription Foot Pedals For Laptop?
When you start out, a pedal is not really necessary but it helps to increase your speed when you are more experienced.
It may not be a good idea to buy a pedal until you know that the job is right for you.
What is a Transcription Pedal?
Attaching a transcription pedal to your play-back device or computer enables you to stop and start the recording.
Transcription foot pedals have buttons arranged next to each other so that you can press them with your foot.
These buttons are programable, so you can decide which one controls each function.
The standard three-button foot pedal has options to rewind, play/pause, and fast-forward.
Other functions may include slowdown, jump, or next dictation among others. This dependends on personal preference and what functions your transcription software requires.
There are many different opinions about how to use a transcription foot pedal. You will find that you will favor a position that suits you and reduces any strain you may feel after hours behind the keyboard.
Why Would You Need Transcription Foot Pedals For Laptop?
A transcription foot pedal is an important tool when transcribing documents.
Most transcriptionists are unable to type at the same speed as a doctor speaks for instance. Transcription foot pedals allow you to slow down or stop the recording without lifting your hands from the keyboard.
This allows you to catch up with the recording. It can allow for a medical transcriptionist to rewind, fast forward, or pause an audio file with ease.
If you don't have a desktop machine then the question is, can you use a foot pedal with a laptop?
Yes, if the pedal comes with a USB connection, then it's possible to connect it to your laptop or desktop computer without any problem. A transcription pedal is a quality investment allowing you to manipulate any audio file by using your foot.
The pedal has separate areas which allow for either, rewinding, fast-forwarding, pausing, or playing an audio file.
For maximum efficiency, a transcription foot pedal allows you to keep your hands on your keyboard. Your feet then manipulate the playback.
When Would You Use Transcription Foot Pedals for Laptop?
A transcription foot pedal allows for a medical transcriptionist to easily rewind, fast forward, or pause an audio file.
Without foot pedals, transcriptionists would have to tediously manipulate audio files using their mouse or keyboard.
This is a waste of time for both the transcriptionist and the company who need to get the documents back to their clients quickly.
So ideally, you want to use a pedal as soon as possible to improve your productivity.
Where Can You Get Transcription Foot Pedals For Laptop?
There are various foot pedals on the market, and this can make it quite difficult to know which ones are best.
One highly recommended transcriptionist foot pedal is the Infinity USB. Its straightforward design ensures little to no foot fatigue. While the mechanical stop prevents transcriptionists from accidentally activating the central pedal whilst stepping on the side pedals.
How Much Does a Foot Pedal for Transcription Cost?
If you're looking for the cost of a foot pedal for transcription, then keep reading as we have selected a variety of foot pedals that will suit every budget. Generally, basic foot pedals are available at prices below $100. But, adding extra functionality raises the price.
How Will a Foot Pedal Help Me Be More Productive?
If you want to improve your transcription speed, this is the most efficient and simple way to do so.
All specialized transcription software requires a foot pedal for accuracy and time savings.
As a professional transcriber, foot pedals allow you to pause and play records with practically no interference.
How Do You Attach a Foot Pedal to a Laptop?
To attach a foot pedal to your laptop requires a USB connection. You may also have to program your software to communicate with the pedal. But, there are installation files that you can download that automate the process.
After all the info we've provided, you may wonder what is the best foot pedal for transcription?
To help you decide, we chatted to a few professional transcriptionists about the pedals that they use. We then selected the following pedals that met their recommendations.
Different Types of Transcription Foot Pedals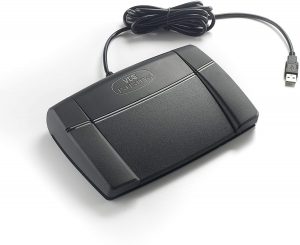 The VEC USB-3 Infinity 3 design uses a unique foot control feature, as well as hands-free dictation functionality.
A tough construction makes the pedal and internal switches extremely durable. The device is engineered for maximum performance while ensuring user comfort.
The pedal base has a wider flare for added stability.
It's compatible with laptops and desktop devices, connecting through USB ports. You get all this for the competitive price of $65.99.
Now isn't that a steal?
Pros:
·         Hands-free dictation
·         Durable
·         Flexible
·         Compatible with Windows and Apple devices connecting through USB ports
Cons:
·         No grip on the pedal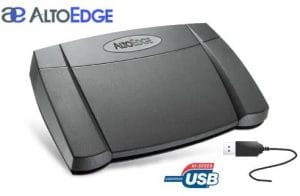 With the increasing need for efficient foot pedals, they are constantly improving and evolving, with most having USB hardware interfaces.
For fast and efficient transcribing, the three-button USB foot pedal from AltoEdge is a fantastic choice.
This product works on both PC and Mac and is a high-quality device that offers comfort and efficiency.
Selling at $99.95, the AltoEdge USB transcription foot pedal well-priced.
Pros:
·         Fast
·         Efficient
·         Works on PC and Mac
Cons:
·         Expensive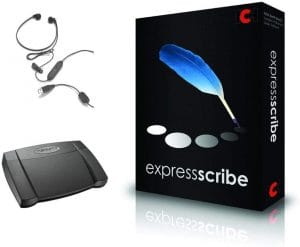 For a pedal that supports audio and video playback as well as offering great quality, the Express Scribe Kit is a great choice.
It can receive and load files by internet, email, or via a local computer network, and it is all automatic!
We think that the best transcription software with foot pedal offer is available in this kit.
The device plays most formats as well as encrypted dictation files and is compatible with all Olympus Digital Voice, Philips Voice, and Sony Voice recorders.
One of its best features is how well it works with Microsoft Word.
The price for this product is $129.95.
Pros:
·         Compatible with your personal computer
·         Works with Microsoft Word and all major word processors
·         Extremely good build quality
Cons:
·         Higher initial investment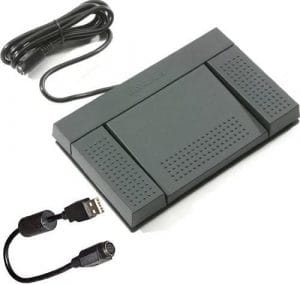 This foot pedal is high quality and works with little to no problems.
The hardware interface is a USB which makes it easily compatible with any PC or laptop.
Unfortunately, the product does not come with software. It also does not work with Dictation Version or different Brand software.
You can only use it with Olympus Transcription Software which is available separately.
Though this can be seen as a negative part of this device, once you have the necessary equipment, the Olympus RS-27 works like a bomb!
The control playback, FF, and REW are reliable as you do not need to take your fingers off the keyboard. The cost of this device is $59.95.
Pros:
·         Reliable
·         Fairly priced
·         USB connectivity
Cons:
·         Olympus Transcription Software is not included with the product.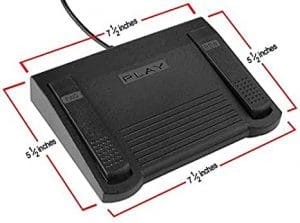 For great traction and reliability, the ECS Single Foot Pedal is a brilliant choice.
It's compatible with the free or paid versions of NCH's software, Express Scribe, and is suitable for both Windows and MAC machines.
The pedal is ergonomically designed for comfort and comes with a standard USB-C connection. It allows you to rest your foot in a relaxed position while transcribing.
With easy foot movements, you can access Play, Fast forward, Rewind and Pause. It has been modified with a custom pc board which is installed inside the foot pedal specifically for use with the Express Scribe.
Aside from it only costing $64.95, the ECS Single Foot Pedal is a breeze to install. And with the plug-and-play pre-programmed, there is no need to run the foot pedal wizard.
Pros:
·         Easy access
·         Comfort and traction for your foot
·         Cheap
Cons:
·         Is not compatible with the latest version of Express Scribe
This foot pedal is specifically made for Philips digital systems and SpeechLive (Online) transcription. It has a USB plug-and-play design capability for ease of installation.
The Philips ACC2330 includes a four-pedal design for maximum efficiency. This allows for easy rewinding, fast-forwarding, and playback.
You'll find the pedals are robust and the non-wearing magnetic contact switches will last. You can fix the middle pedal when not in use.
The design provides comfort and an anti-slip surface for a better transcribing experience.
The anti-slip keeps the device fixed to the floor.
As a bonus, the pedal is 100% waterproof to keep all internal components sealed and protected against water damage.
At $82.00, this is a great deal.
Pros:
·         100% waterproof
·         Anti-slip
·         Comfortable to use
·         Fast and efficient
Cons:
·         Essential software is not included
Finding the right transcription foot pedal for laptop or desktop use is easy if you know exactly what you are looking for. The transcription foot pedals for laptop were reviewed by experienced transcriptionists who spend many hours behind a keyboard.
Let us know if you have any questions or need information about transcription jobs.
If you need money right now, then check out this link.